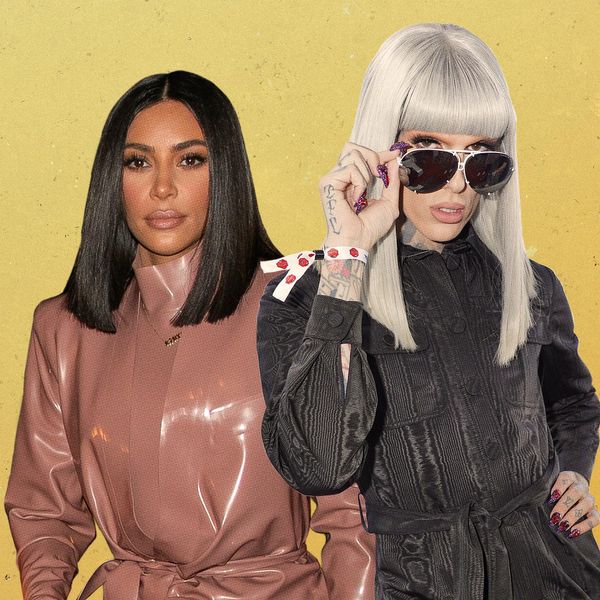 Update (1/7/2021): Jeffree Star has come forward to debunk the rumor that he was responsible for Kim Kardashian and Kanye West's rumored divorce. In a clip posted to the controversial beauty mogul's YouTube, Star clarified not only that he isn't sleeping with West but that they've never even so much as hung out. He goes on to say that the TikToker who made up the rumor is lying and that, for the record, he prefers "very tall men." (Google says West is 5'8″.)
BREAKING NEWS THAT WILL MOST DEFINITELY CHANGE YOUR LIFE: Jeffree Star debunks rumors that he and Kanye West are da… https://t.co/HjV3sl9rg1 — Def Noodles (@Def Noodles)1610054843.0
____
Less than 24 hours have passed since rumors first emerged about Kim Kardashian and Kanye West getting a divorce, and speculation about who might have cheated on who with who has already reached certifiably deranged levels.
Page Six first reported that multiple sources indicated it was over between Kardashian and West after seven years of marriage. They alleged the pair is "keeping it low-key, but they are done," adding that Kardashian has reportedly hired the same attorney who handled her divorce to Kris Humphries.
Related | Kim Kardashian and Kanye West Are Reportedly Getting a Divorce
Neither Kardashian nor West have addressed their rumored split, but the internet has already run wild, perhaps having seen the writing on the wall for some time. Early gossip has ranged from the circumstantial, like suggesting Kardashian is dating CNN commentator Van Jones, whom she was seen with at a 2018 criminal justice reform summit, to absolutely farfetched, like newly elected Georgia Senator Raphael Warnock.
But the strangest of all is today's speculation that West cheated on Kardashian with (future porn star) Jeffree Star, of all people. Despite there being no evidence to this rather insane suggestion, the rumor apparently started trending thanks to a TikToker whose previous claim to fame was licking an airplane toilet seat as a parody of the "coronavirus challenge."
Some past song lyrics have resurfaced. https://t.co/GEmUQQjhIK — KEEM 🍿 (@KEEM 🍿)1609953395.0
This all eventually made its way to Deuxmoi's Instagram Story with people pointing to the lyric, "Sucked off Kanye West/ Now I'm one of the bros," from Star's 2009 Beauty Killer single, "Bitch, Please!"
I'm ready for Sunday Service 🕊 https://t.co/6kCA4kNrfu — Jeffree Star (@Jeffree Star)1609963485.0
And while the rumor still remains unfounded, it did provide Twitter with plenty of meme fodder and ended with Star himself cheekily tweeting out a selfie and the caption, "I'm ready for Sunday Service."
Jeffree escaping when he heard Kim's car in the driveway https://t.co/Ni8nEAPOD1 — ☆ Lou Sifer ☆ (@☆ Lou Sifer ☆)1609959822.0
kim when she hears about Jeffree Star and Kanye https://t.co/uTr1Agwjwu — Sacha 🎅🏼❄️ (@Sacha 🎅🏼❄️)1609943954.0
Nobody:
Kanye West and Jeffree Star: https://t.co/nmReYtM3ET — Zack (@Zack)1609965944.0
Photos via Getty