"Who will sort out the details if a woman asks"
The Western press continues to actively discuss Ms. Zelenskaya's speech in the US Congress, where she asked for new arms supplies for Ukraine, pushing primarily for air defense systems.
Why Kyiv is now so interested in anti-aircraft missile systems and anti-aircraft systems, explained a military expert, ex-head of the anti-aircraft missile forces of the Special Forces Command (Moscow Air Defense District), reserve colonel Sergey Khatylev.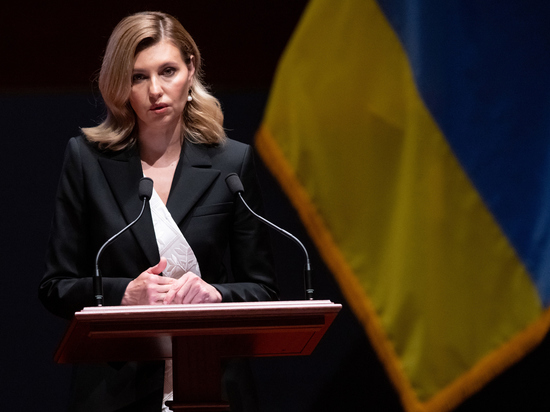 Photo: Global Look Press
The visit of the wife of the Ukrainian president caused an ambiguous reaction in the West – fatigue from the Ukrainian theme is clearly visible. A number of media outlets emphasize that the wife of the president, even if such a publicized one, does not have the authority to demand arms supplies from statesmen. And even more so, reproach them for not doing it very actively. Readers of the British tabloid Daily Mail, for example, ironically remark: who else from the relatives of the Ukrainian president should soon be expected in Washington with similar speeches?
Although, of course, it must be admitted that Madame Zelenskaya, a spectacular woman in a light-colored jacket with buttons on each breast, made a vivid impression on congressmen. And most of all – on President Biden. He did not take his eyes off her at all, and for the first time in public he went where he needed to, looked at who he needed and shook his hand at who he needed. Perhaps that is why none of the hosts paid attention to the fact that the guest was clearly lying when, with a tear in her eyes and awe in her voice, she spoke about air defense weapons "to protect your home and the right to wake up in this house alive."
The fact is that the air defense systems "only for themselves", to protect "their home", the Zelenskys just left. Assuming, of course, that Ms. Zelenskaya's house is still in Kyiv, and not somewhere on the coast of Miami. But with air defense systems to protect the Ukrainian troops, Kyiv really is in trouble. So, under the pretext of "protecting the home," in fact, she asked the US Congress for the supply of military air defense. But who will understand such trifles if a woman asks?
Here is how the MK expert Colonel in the reserve Sergey Khatylev says about it:
– The main part of the air defense that they now have left there – about 20 anti-aircraft missile systems – is on the defense of Kyiv and two or three other large cities. For example, Dnepropetrovsk, where one of the anti-aircraft missile regiments was traditionally based. But on the battlefield, the military air defense systems of the Armed Forces of Ukraine are now very much lacking.
The Armed Forces of Ukraine have American Stinger man-portable anti-aircraft missile systems. They are quite effective for working on helicopters and other low-altitude targets. But today they do not have "big air defense" complexes. That is why they are asking the Americans: give us your Patriot complex, at least in the PAC-3 modification. That is, medium and long range.
– Of course. Our aviation has completely won air supremacy and is ironing them left and right.
The fact is that the American MLRS HIMARS, according to Western experts, are currently replacing Ukrainians with tactical aviation, which the Armed Forces of Ukraine have practically no longer have. True, the Americans promise to supply them with their F-15 and F-16 fighters, but so far there are none. And now their HIMARS solve the tasks of tactical aviation in delivering strikes, including on our air defense systems.
But they don't have their own air defense to protect the troops from us. We destroyed it.
– As for the Patriot, I deeply doubt it. Americans simply do not have free complexes to give them to someone. They'll have to take them from someone. Not all countries are ready to go for it. They will immediately require supplies of similar newer complexes. They don't exist either. In short, everything is complicated here.
But as for the Norwegian NASAMS complexes and the German Iris, it may well be. Both of them use specially modified aircraft missiles to hit targets. Their range is up to 40 km. True, there is a data leak indicating that a new missile with a range of up to 80 km has already been made for it. However, whether it passed the full cycle of tests and whether it will be given to the Armed Forces of Ukraine, there is no information about this. But with old missiles, Kyiv will most likely receive Norwegian and German air defense systems. Especially if a beautiful woman asked for it.
Источник www.mk.ru