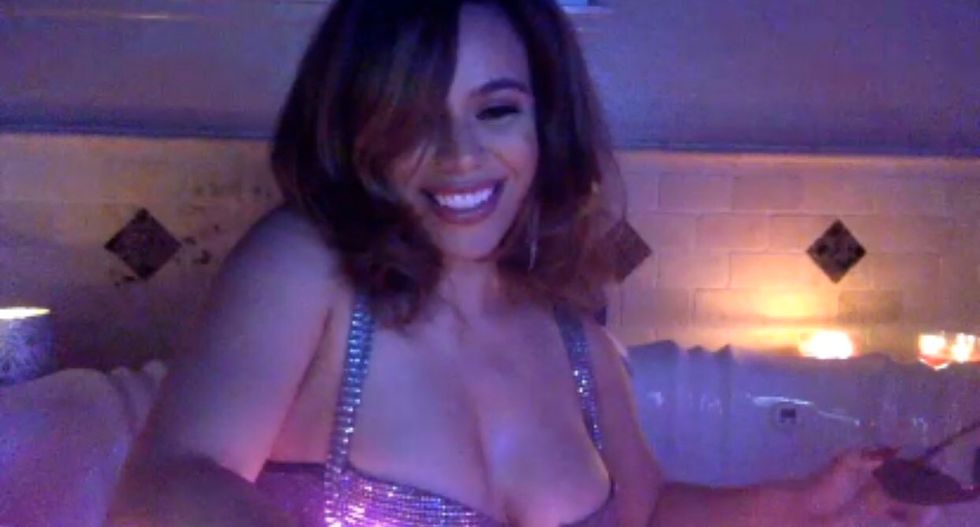 Even in isolation, Nasty Cherry is still the ultimate party crasher.
At PAPER's Wednesday night party with Club Quarantine, Zoom's OG queer rave, the Los Angeles pop-punk band surprise dropped by to premiere their new single, "Shoulda Known Better," out this Friday. Gabi Bechtel, Chloe Chaidez and Georgia Somary all separately called in (Debbie Knox-Hewson is social distancing in the UK) to dance with their fans to the nostalgic, guitar-led bop. "You're a true deceiver/ I shoulda known better, yeah," lead vocalist Bechtel sings on the track, queuing up a fresh, new era with early 2000s attitude. On Zoom, she thrashed her platinum bob, while Chaidez danced in front of a virtual Eiffel Tower and Somary doused herself with water. It was all during a DJ set by MEATY, the BDSM rap artist who wears a nail-covered gimp mask and performs with pitched down, demonic vocals.
NASTY CHERRY on Instagram: "DID YOU HEAR OUR SNEAK PEAK ON @PAPERMAGAZINE ZOOM PRTY?! missing our lovely debs but here's a bit of what you missed 😉 be safe loves…"
At 9 PM EST, PAPER x Club Quarantine publicly dropped the zoom code, as Dana Dentata started DJing a mix of hip-hop classics and ear-shredding metal. During soundcheck the hour prior, Dentata reflected with Club Q's co-founders about also being from Toronto. She used to regularly perform in a punk band at a local queer bar, called The Beaver, which is temporarily closed under COVID-19. Her set last night was ravenous, as she wore a black latex face mask and waved around a devilish baby doll. The comments section exploded with a flurry of "WTF's," but it seems Dentata prefers to elicit a polarizing response through her music, which includes 2019's perfectly aggressive Daddy Loves You EP.
Related | Victoria Monét and Dinah Jane Will DJ PAPER x Club Quarantine
Our hilarious party host Mike Thornwell, who switched in and out of what seemed like dozens of wigs all night, then introduced the next guest: Victoria Monét. Earlier in the day, the singer asked Twitter fans to request songs for an intimate DJ set in celebration of her latest single, "Dive," about yearning for good head game — especially while in quarantine. Everything from TLC's "Creep" to Janet Jackson's "All For You" filled her 30-minute slot, before segueing into her sultry, new bop. Of course, the chat went wild. Monét, who's bisexual, later reminded fans on Twitter that "Dive" is about both men and women, saying, "Don't get it twisted… women dive too."
After a drag show from JayJay Kings (and Nasty Cherry's surprise appearance), Rising pop star Gia Woods kept the night moving with a mix of bangers from all her pop predecessors: Madonna, Britney Spears and Lady Gaga. (Thank you for playing "G.U.Y." from Gaga's unsung epic, ARTPOP.) She also played her own material, including "Keep On Coming" and "Only a Girl," the queer anthem that helped launch her career. (Its music video has nearly 11 million plays on YouTube.) "Only a girl knows how a girl feels," Woods sings. "Only a girl can make me feel this way." One of the highlights was a sexy remix to an unreleased Woods song by her cousin NAR, the DJ/producer who later closed out PAPER x Club Q with an iconic remix of Kelis' "Milkshake."
Fifth Harmony stans who waited patiently all night for their queen, Dinah Jane, were kept fed when the solo star emerged from her own bathtub in a sparkly bustier, daisy dukes and face-shielding sunglasses. With her initials and some soft candles burning behind her, Jane's quarantine set-up was truly a sight to behold. In-between gushing with Thornwell about his wigs, Jane played songs like Rihanna's "Work," Mariah Carey's "Heartbreaker" and Doja Cat's "Cyber Sex." She also played her own solo material, from the sexed-up single "Lottery" to her more recent release, "Missed a Spot." As if to cap off the night, and all our quarantine moods, the diva threw it back to Fifth Harmony's 2016 Ty Dolla $ign-assisted smash, "Work From Home." At once, the chat sounded off: "I can't stand these nights alone…" At least, Club Q makes it all a bit easier.