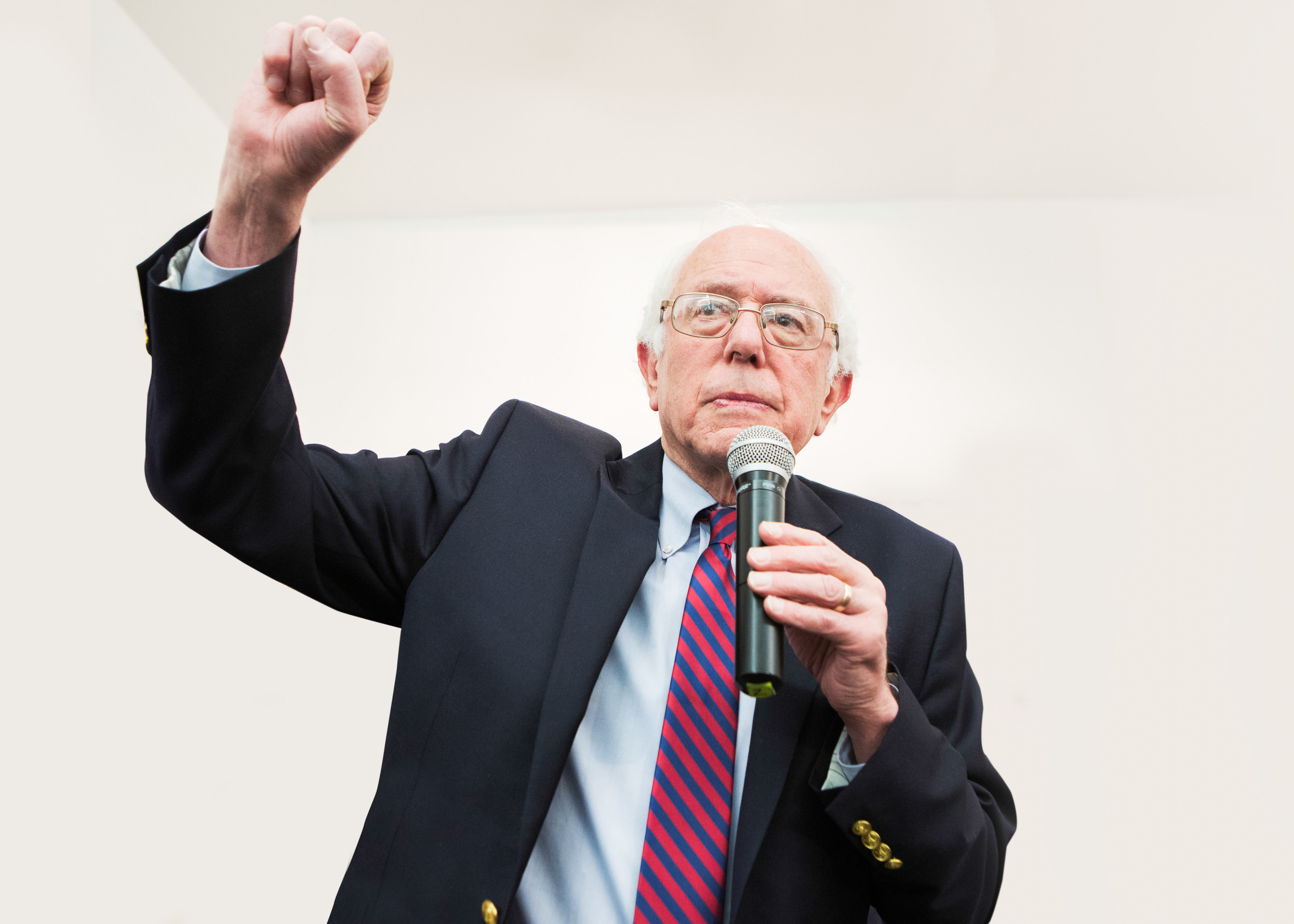 If you've been anywhere near Twitter in the past couple of weeks, you've probably noticed people posting selfies alongside hashtags about Democratic presidential frontrunner Bernie Sanders. Combining two of Twitter's favorite things — thirst traps and political discourse — it's unsurprising that the hashtags took off ahead of last night's Iowa Caucus. Of course, some have questioned the efficacy of thirst trapping for your presidential candidate of choice.
Emily Ratajkowski on Instagram: "@berniesanders"
As pointed out by Elle, things the politically geared thirst trap started trending after Emily Ratajkowski's early January endorsement of Sanders — something that spurred jokes about the "hot girl" demographic showing up for Bernie. In the wake of this, friends Danaka Katovich and Hadiya Afzal decided to organize a group chat tied to the public launch of the #HotGirlsForBernie campaign on January 24. While it may have started as a joke, Katovich explained that the potential for exposure that would subsequently kick off serious discourse, motivated them to make the campaign a reality.
"I figured if I can get some apolitical folk laughing at a Bernie thirst trap, maybe we can get them out to vote for him too," Katovich explains. "I think it's taking off a lot now because we are building momentum as the primaries get closer." And take off it did. After the success of the #HotGirlsForBernie campaign, Katovich encouraged her friend, Adam Noll, to start a similar chat and selfie push for male Bernie supporters slated for January 31.
Related | Watch Cardi B Take Bernie Sanders to the Nail Salon
"The response was way more than I ever could have imagined," Noll says, before theorizing that the efficacy of the hashtags lie within the fact that a "large, vocal portion of his base are young people who grew up engrossed in meme culture like me." Which is also what likely led to the simultaneous popularization of another, recent Bernie-centric meme: the "I Am Once Again Asking" trend. But what exactly makes him such a memeable candidate?
jaboukie young-white on Instagram: "#hotboysforbernie"
In addition to Noll's analysis that politics in general are "a great source for topical memes in general, regardless of candidate," TrueAnon podcast host and #HotBoysForBernie poster @YungChomsky believes that the common assessment is that Bernie "doesn't go to any lengths to manufacture his own image," as he "doesn't pander or pretend, which makes it funny to manufacture all of these images for him and place them into disparate contexts."
Another debate that's popped up revolves around the perceived efficacy of thirst trapping for Bernie. #HotBoysForBernie participant Josiah Brown said that he's noticed some accompanying discussion related to policy and other candidates. While there are a lot of "you're hot" comments and jokes along the lines of "If you won't date me, I'm going to vote for Amy Klobuchar," Brown said that there's also been "substantive debate" in his replies, which he believes is "ultimately productive."
That said, as is the case with any viral trend, there was also a fair share of criticism — ranging from those saying that Bernie memes are delegitimizing to arguments that the movement is vain to troll-y accusations of the selfies promoting "body fascism," per @YungChomsky — surrounding the trend. However, as Noll rebutted, "it's as much about body positivity and acceptance as it is about politics."
"If you're voting Bernie, that's what makes you hot," he added — a stance reiterated by ardent Bernie supporter Sarah Squirm, who also claimed that she's noticed that a "thirst trap selfie just gets people to pay attention in a way that seemingly nothing else does." As she posited, it'd be naive to ignore the fact that memes are currently the pre-eminent form of cultural communication, especially for the younger generation, so "we just have to saturate people with images, because Bernie's been ignored [by mainstream media] for too long."
"We have to accept our shallow, vapid celeb culture," she argued, pointing toward the online meme-based mobilization that got Trump elected in 2016. "Trump is a celebrity in the garbage way, while Bernie is a celebrity in a legitimate rockstar way, because he's been able to radicalize people who have been alienated their entire lives. That's his celebrity."
Aside from that though, even amongst die-hard supporters, the thirst traps for Bernie trend has proven to be an effective way of unifying his current base.
"The base message that's trying to be put across is that compassion and unity and solidarity is sexy," #HotBoysForBernie member Zac Kolbusz explained, before arguing that memeing Bernie is important as he believes it will help "mobilize youth support" in the long run, especially as young voters are the least likely to turn out to the polls. Granted, the thirst traps for Bernie movement has also served as a way to push back against the centrist and right wing's stereotyping of Bernie's base as "ugly, smelly, nasty, cringey, basement dwelling, mentally-ill people with brightly dyed hair" isn't true, per Twitter user @TheTwilightMonk.
"We're not all 'dirty communist hippies,' not that there's anything wrong with being that," @TheTwilightMonk said. "The point is that we look like everyday people, and some of us look even better than that. I'd go as far as to say that some of us could be models, if they aren't already."
But even amongst more liberal factions, the prevalent misconception that the majority of Bernie supporters fit into the young, white male "Bernie bro" mold has also proven to be a detriment at times, which is another reason why Ghaffar Gbenro decided to post his selfies under the #HotBoysForBernie hashtag.
"I wanted to post mostly to go against the Bernie Bro narrative that Bernie supporters are younger white males," he explained — a sentiment echoed by Kolbusz, who says, "it's important to show the people who support Bernie come in all different shapes, sizes, and colors."
That said, as Brown went on to say, the most important aspect of all of this thirst trapping for Bernie lies within the fact that it is ultimately just another way to help drum up support and momentum by "putting more human faces to the campaign." After all, as he put it, with the "rising tide of facism around the world and the climate crisis looming, it kind of feels like this could be our last electoral off-ramp before some really serious shit going down" — something that just makes getting Bernie into office all the more essential.
"Just seeing how corrupt most politicians are and how everything seems to be rigged, to have a candidate with a viable shot at the presidency who means what he says and intends to fight, as he has his whole career, for marginalized and working class people, I think it's a huge deal," he said, though he also points toward the fact that the our kids will, ultimately, be the ones dealing with the ramifications of our world's current downwards spiral. "And I do have a daughter who's about to turn five, so I think about her and how dire it is that we get him into office," Brown said, before adding, "how important this moment is."
Welcome to "Internet Explorer," a column by Sandra Song about everything Internet. From meme histories to joke format explainers to collections of some of Twitter's finest roasts, "Internet Explorer" is here to keep you up-to-date with the web's current obsessions — no matter how nonsensical or nihilistic.
Photo via BFA