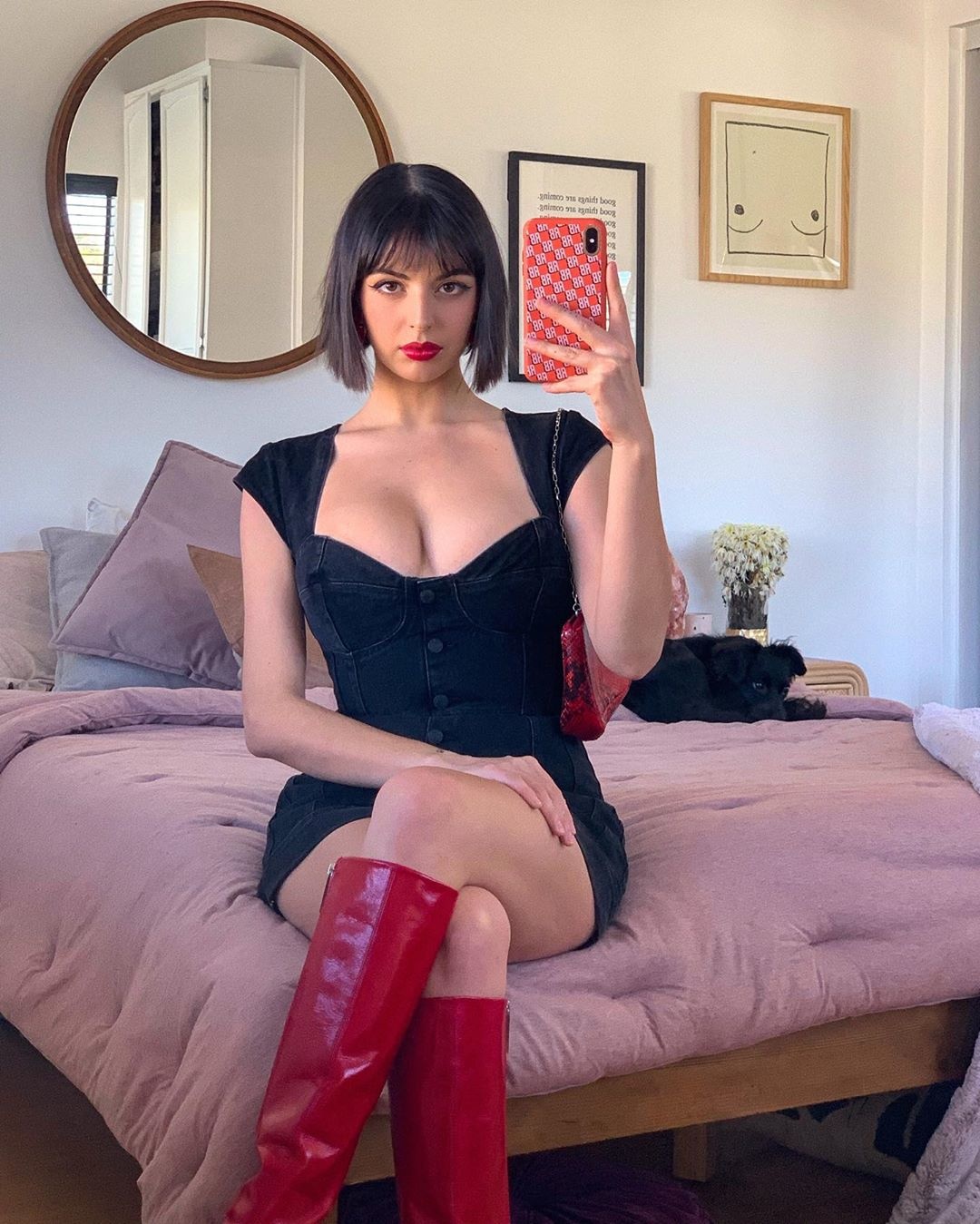 In the nine years since its debut, Rebecca Black's "Friday" has been solidified as an internet cultural touchstone for better or worse. And while the vitriolic hubbub surrounding the song and Black herself has since faded away, her recent reflection on the anniversary of its release has sparked yet another viral moment, as well as a larger conversation about the evolution of internet culture.
Earlier this week, Black wrote a candid post in which she touched on the backlash's effect on her mental health, as well as its continued impact on her social and professional life. Now 22, the musician openly admitted that while she knows "time heals and nothing is finite," remembering that continues to be an ongoing battle, even years removed from the traumatizing situation.
"I just wish I could go back and talk to my 13-year-old self who was terribly ashamed of herself and afraid of the world," she wrote earlier this week. "To my 15-year-old self who felt like she had nobody to talk to about the depression she faced. To my 17-year-old self who would get to school only to get food thrown at her and her friends. To my 19-year-old self who had almost every producer/songwriter tell me they'd never work with me. Hell, to myself a few days ago who felt disgusting when she looked in the mirror!"
In the days since her post, Black has experienced an outpouring of support, even from those who came out to apologize for being part of the vicious dogpile in 2011. However, her note also ended up raising an interesting discussion about how our collective response to silly viral content has changed since "Friday" took off. After all, in an age where virality has become a coveted commodity and people who are far more suspect frequently employ stunts in an attempt to kickstart their careers, Black's case has forced the internet-at-large to also reflect on its growth, its past treatment of a then-middle schooler, and what happens when the cyberbullying campaign of a child goes viral.

[twitter_embed https://twitter.com/CarolineMoss/statuses/1227241326443286528 expand=1]


Granted, as Black tells PAPER, she never intended for the song to blow up in the first place. In fact, she thought she'd be lucky if her grandma saw the video. But in between the video's bizarre depiction of tween partying, Black's heavily autotuned voice, and the track's lyrics ruminating on the days of the week, "Friday" went viral as an inane, vacuous tween ditty — something ripe for parodies, memes and relentless trolling.
A furor proliferated by a segment on Daniel Tosh's Tosh.O series and a flurry of mean-spirited articles dubbing it everything from a "train-wreck" to perhaps "the worst song ever," "Friday" — later discovered to be the work of adults running a vanity record label called Ark Music Factory — was something the aspiring performer was told would help her "gain real-world experience in her chosen profession," per the Daily Beast.
Needless to say, it was an endeavor that backfired; though later analyses would recognize the song's cultural influence while positing that the vitriol stemmed from a resentment toward the increasing power of young people online or, more likely, society's perennial dismissal and animosity toward teen girls. Meanwhile, others attributed it to the track "being ahead its time," as a 2017 Rolling Stone profile on Black noted that autotune is now ubiquitous and having a viral song has become a legitimate way of breaking into the mainstream music industry in the years since.
However, Black herself has another theory: That the hate came down to the fact that online etiquette — particularly pertaining to viral videos of young people — was far less established when "Friday" was released.
"2011 wasn't necessarily even that long ago, but people didn't hold themselves to the responsibility they do now, and they definitely didn't hold other people responsible," she said. "[The internet] wasn't developed enough to maybe understand that every person has a real world and life behind that video. I don't think a lot of people realized how young I was. But in hindsight, I can't imagine anyone looking back and feeling good that they made fun of a 13-year-old."
Related | Break the Internet: Amanda, Please
Regardless, none of this lessened the awful intensity of the backlash for Black at the time, who pointed out that being a teen girl is hard enough — let alone one dealing with all the death threats, derisive media attention, or being put on blast by adult men with enormous platforms and a love of punching down.
"I was so young and at that perfect age of everything just feeling like the world was ending as it was, regardless of having anything like 'Friday' happen," she said. "Being 13 is not necessarily the prime of anyone's life… So introduce hundreds and hundreds and thousands of people into that equation, and it just fucks your mind."
Rebecca Black on Instagram: "i could have never imagined the response i've gotten over the past few days. thank you for meeting me with honesty about your own stories.…"
In the wake of "Friday," Black said she had to be homeschooled and spent her days by herself at home. And though she eventually made her way back to the internet ("which is ironic") and found a community to lean on there, Black still felt totally isolated — something that just fed into her depression.
"There was a good amount of time throughout my teenage years, and after all the initial craziness winded down, that I was just incredibly alone. But at the same time, I felt like I had nobody to talk to," she said. "It was such a painful thing to deal with, and I think when you're going through something like that, the hardest part is just saying the words to yourself… So I think I avoided it and tried to run away as far as I could, but it always caught up to me."
Black credited starting therapy at 18 with helping her "move forward and really change certain negative, dangerous mindsets that have become so normal for me." She has been spending "the last couple of years trying to work out what is true to me and what feels right," and advocating for more transparency when it comes to talking about mental health — which is where her recent post came from. Because while she had initially planned to celebrate "Friday's" anniversary by just posting something simple, Black realized that a message like that wouldn't convey how she really felt about the past nine years.
Related | The Rise of the Vulnerable Heroine
"I've never really been honest on my own accord [about what happened]," she said. "I never felt ballsy enough to talk about depression or what it really looked like. People knew it was a negative experience and people knew I had a hard time with it, but I don't think I was able to talk about the depth of that. Like, you're bullied, but what does that actually do to somebody?"
Despite her past struggles though, Black is adamant about not fixating on past wrongs or contemplating what ifs. If anything, she's just content with knowing that she is still "so proud of that 13-year-old girl who did something because she enjoyed it and loved it and because she wanted to try something new."
"I don't know if the internet is necessarily better, but I do think there are pockets of kindness that people can look at and hopefully learn something from it."
She continued, "Of course I imagine what would've happened if ['Friday'] had appeared in this day and age, but at the same time, I can't let myself get wrapped up in that. But even though there are people who have definitely had similar situations to me — who now get a record deal or become an influencer — I think there is an entirely new batch of things they're dealing with that I was spared from."
With this in mind, Black went on to laud this new generation of internet users for having the strength to share their lives with the public, even amidst potential cancellation and trolling. In fact, she thinks that everyone sharing "their lives and the good and the bad" is the main reason we're slowly becoming kinder to each other online.
"I think now, we see so much more of people, and you're not just getting the [viral moment]. Like, you see them afterwards and now you can really take a look at their lives," Black said. "I don't know if the internet is necessarily better, but I do think there are pockets of kindness that people can look at and hopefully learn something from it."
Related | Lauv on the Internet: 'It's Literally a Drug'
As for her own situation, Black said that she genuinely doesn't want anyone to feel bad about the past. Even so, she reiterated that the outpouring of positivity she's received following her post has "really meant a lot" to her and that she hopes her story encourages others to "be a little more delicate with kids online."
"If 13-year-old me was still around, and she was frozen in time and could see what was happening now, it would mean the world to her — to see people have a change of heart and come around," Black concluded, adding that it's been heartening for her to be able to view the internet as a place of growth and learning again. "For me now, I've luckily spent a lot of time working on things for myself, but it still makes me really excited for the potential that people still have — that not all humanity is lost."
Welcome to "Internet Explorer," a column by Sandra Song about everything Internet. From meme histories to joke format explainers to collections of some of Twitter's finest roasts, "Internet Explorer" is here to keep you up-to-date with the web's current obsessions — no matter how nonsensical or nihilistic.
Photo via Instagram